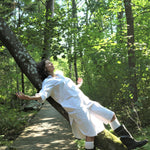 Here at Forest Spa Finland, we have a deep respect for the outdoors and believe there is a special kind of magic that can be found in the forest. 
Forests cover more than 75% of the land area in Finland, and this makes it the most forested country in Europe. It's no surprise that the Finns love spending time in nature - it's the perfect way to escape our busy lives. Breathe and take it all in. One concept that really embodies this is the practice of 'forest bathing' and we want to share our knowledge and explain the powerful impact that nature can have on your physical and mental health.
In this guide, we are going to tell you everything you need to know about forest bathing - how to do it, who it's suitable for and what the benefits are of spending some quality time in nature's arms.
What is forest bathing?
Despite the name, you don't need to pack your swimsuit for this activity. Forest bathing is simply the act of slowing down and immersing yourself in the atmosphere of the forest. 
It isn't anything new. In fact, humans have spent time enjoying the calming environment that forests have to offer for years. Forest bathing is a process of relaxation - It involves being calm and quiet amongst the trees and breathing deeply whilst observing the nature around you.
The concept of forest bathing or 'shinrin-yoku' was developed in the 1980's in Japan after scientific studies showed that two hours of mindful exploration in the forest could reduce blood pressure and improve concentration and memory. Over the last few years, forest bathing has become extremely popular and we couldn't be happier about it. The benefits of nature therapy are starting to become widely spoken about and we're thrilled that people are starting to realise how beneficial connecting with nature can be.
What are the benefits of forest bathing?
There's nothing better to calm you down than a breath of fresh air - we all know that spending time in nature makes you feel good inside and out. But scientific studies have shown that forest bathing has many short-term and long-term health benefits. The more you do, the better it is for your physical and mental health. But results can be seen after just one trip so consider trying it when you next get a gap in your busy schedule.
Now for the (slightly) technical bit - trees and plants release a substance called phytoncides, otherwise known as the medicine of the forest. These organic compounds have been found to strengthen the immune system, kill virus-infected cells, and reduce cortisol levels due to antidepressant properties. 
As well as being incredibly enjoyable and relaxing, practising this mindful experience has many health benefits including but not limited to the following:
Increases immunity 

Decreased risk of heart attack

Better sleep 

Higher concentration levels 

Decreased inflammation in the body 

Clearer skin

Boosted mood
Who is forest bathing suitable for?
Observing nature and breathing deeply to help you relax and de-stress can be beneficial for anyone and everyone. It's an inclusive activity that can be done alone or in a group. 
If you're looking for an opportunity to pause and soothe your mind whilst improving your immune system, then forest therapy could be the perfect activity for you. There are plenty of places to go forest bathing, but you can check suggested locations where you live,  like this guide in the UK here. 
Getting started with forest bathing
This sensory experience involves taking in your surroundings to benefit your health and wellbeing. When tapping into all your senses, you often feel a state of calm which has plenty of positive effects on your health and happiness. There are lots of prompts you can use when forest bathing, but always do what feels right for your body - it should be a unique experience. Your body always knows best, so tune in and listen to it. 
Here are some suggestions to help you get started with forest bathing if you're not sure where to start:
Take it slow

- when you're walking through the forest, try and become aware of your surroundings and take notice of small details around you. Nature can be full of unexpected surprises.

Stop for a moment

- stand up or sit down (whatever makes you feel comfortable) and take long, deep breaths from your abdomen. Breathing deeply from your stomach helps to relax and unwind. 

Keep your eyes open

- it can be tempting to close your eyes when trying to (because we associate this with sleeping). Relax and practise mindfulness, but the colours of the forest are so peaceful so keep them open and look around - nature can be so beautiful.

Use all your senses

- what can you hear? What can you smell? What can you see? What can you feel on your skin? 

Stay as long as you feel comfortable

- Even just 10 minutes of calm in your busy schedule will help you to switch off. But if you have the time, 2 hours is recommended for the ultimate forest bathing experience. 
Improve your daily health and wellbeing routine
If you're looking for natural additions to improve your health and wellbeing routine and take it one step further, shop our vegan adaptogen supplements. We use the finest ingredients sourced from Nordic nature  and our  adaptogens will  provide you with skin immunity and plenty of other great benefits which you can read about in our journal.  
 We hope you now have all the information you need to get started or delve deeper into your personal wellness and forest bathing journey. We're sure you're going to love it and want to make it a part of your wellness routine too.