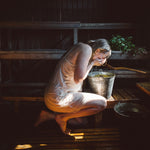 Here at Forest Spa Finland HQ, we know that beauty is complex and personal. It means something different to everyone. But if there's one thing we're sure of, it's that the Nordic approach to beauty is one of the best; trusted, high quality and effective, the no fuss approach, a little bit kooky, it's what we are all about. There's also something very special about the Scandinavian lifestyle and  approach to wellness - it's very holistic, it's considered and it's very important to  get it right every time, especially when it comes to beauty and skincare.
If you're looking to take your skincare routine to the next level then keep on reading to find out some of the best kept Scandinavian beauty secrets to achieve glowing skin. 
What does a Nordic skincare routine consist of?
Nordic or Scandi skincare has an elegant simplicity that we cannot get enough of. Put simply it's  a routine that is minimal and uncomplicated but delivers brilliant results - sounds good, right? 
A lot of skincare enthusiasts like to pile on beauty products in hope of seeing some sort of result. However, this method can actually clog the pores, irritate the skin or overwhelm it. In contrast, a Scandinavian skincare routine takes a more holistic approach, focusing on general wellness as much as the products themselves. We all feel our best when we are rested and  just a few select products gently layered on the skin is all that is required to help skin feel it's most balanced.
Best Scandinavian skincare products 
As much as we believe it's important to nourish your body from the inside, skincare products also play a huge role in achieving your desired skin. 
Here are a few Scandinavian skincare brands we love:
Verso -

This Swedish skincare brand creates natural skincare formulas that are great for sensitive skin. All of their products come packaged in a gorgeous minimal design so you'll also be super excited about displaying them on your skincare cabinet.

Nuori -

This clean, Danish beauty brand is on a journey to revolutionise skincare. Nourish yourself with their products packed with fresh, active and natural ingredients that promise to deliver incredible results.

Foreo -

This brand takes a smart approach to beauty. You may have already come across one of their best selling products, the Luna sonic facial cleansing brush - it's a beauty fanatic's favourite accessory. 
These great brands' products will help tide you over until the full Forest Spa Finland topical skincare line launches starting later in 2022. 
If Nordic beauty is something you're looking to harness, our supplements provide you with the skin immunity and support you need to look and feel your best. Packed with Nordic adaptogens and helping to brighten support and protect skin from within, so your skincare products have a lot less work to do.